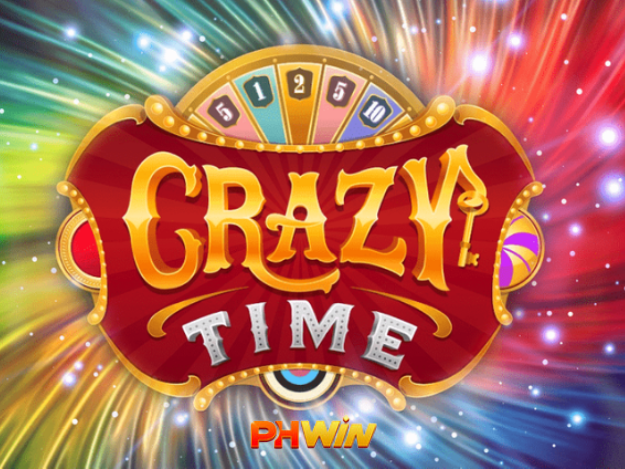 Crazy Time Live Casino Review by Phwin
Welcome to the exhilarating world of Crazy Time, the Evolution Gaming's live casino game that promises non-stop thrills and exciting gameplay. 
In this comprehensive guide, we will delve into the intricacies of Crazy Time, exploring how to play, its game features, strategies to win, and where you can embark on this thrilling adventure. 
Get ready to be captivated by the excitement and immerse yourself in the world of Crazy Time Live Casino Game!
How to Play Crazy Time Live Casino Game
Crazy Time is a live casino game show that combines elements of a classic game show and a popular casino game. The game revolves around a large spinning wheel filled with various segments, each offering different multipliers and bonus features. Your goal is to predict where the wheel will land and place your bets accordingly.
Before each game round, you have the opportunity to place bets on different sections of the wheel. There are 8 sections to choose from, including numbers 1, 2, 5, and 10, as well as four bonus games: Cash Hunt, Coin Flip, Pachinko, and the Crazy Time Bonus Wheel. Each section offers unique payout opportunities, and your strategy should involve a combination of number bets and bonus game bets to maximize your winning potential.
Once all bets have been placed, the game round begins. The host or hostess spins the wheel, and a slot on top of the wheel generates a random multiplier and section. If the wheel lands on a numbered section, you will receive a payout based on the corresponding multiplier. If the wheel lands on a bonus game section, you will be entered into one of the thrilling bonus rounds.
What are Bonuses Available in Crazy Time Live Casino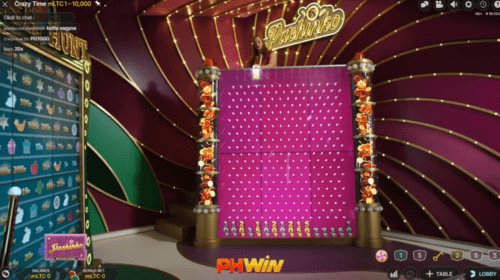 This bonus game offers a chance to win big with its unique pinball-inspired gameplay. A puck is released down a Pachinko wall, hitting pins and changing direction until it lands in a multiplier spot. Keep an eye out for the double zone, where all multipliers double in value, creating even more excitement and potential rewards.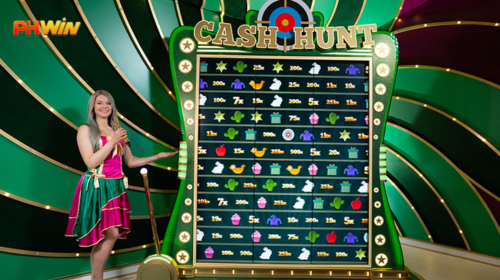 Prepare for an interactive shooting gallery experience in this bonus game. A grid of symbols appears on the screen, and it's up to you to shoot them to reveal your personal combination of multipliers. Aim carefully and hope for the highest values to maximize your winnings.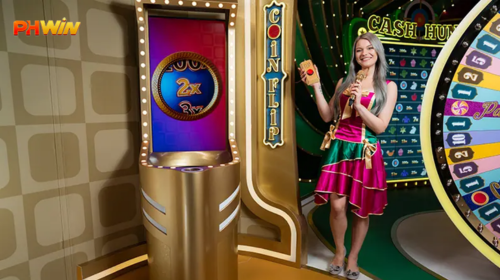 In this bonus game, a coin is flipped to determine your payout. The coin has a red and a blue side, each associated with a different multiplier value. If the coin lands on your chosen color, your bet is multiplied by the corresponding value, adding an extra layer of suspense to the gameplay.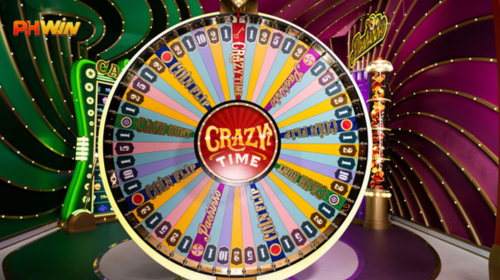 This is the ultimate bonus round, offering the highest potential for massive payouts. The Crazy Time Bonus Wheel consists of 64 segments, each with different multipliers. Select one of the flappers at the top of the wheel, and watch as the presenter manually spins it. Your multiplier prize will be determined by the segment aligned with your chosen flapper. If your flapper lands on "double" or "triple," all multipliers on the wheel are doubled or tripled, potentially leading to extraordinary winnings
Tips to Win in Evolution Crazy Time Live Casino Game

Set a budget for your gaming session and stick to it. This ensures that you don't overspend and helps you maintain control over your bankroll.

Mix Number and Bonus Game Bets
 To maximize your winning potential, consider placing a combination of number bets and bonus game bets. Number bets offer consistent payouts, while bonus games can yield substantial rewards if you're fortunate enough to trigger them

Familiarize yourself with the payout structure and odds of each segment on the wheel. This knowledge will help you make informed decisions when placing your bets, increasing your chances of landing on high-paying segments.

Take Advantage of Multipliers
Keep an eye on the multipliers generated during each game round. If you notice a trend of higher multipliers appearing frequently, you may choose to increase your bets during those rounds to capitalize on the potential for larger payouts.iply your earnings and boost your overall winnings.
Where to Play Crazy Time Live Casino Game?
Phwin Casino is a top-rated online casino that offers an exceptional gaming experience, including the popular Crazy Time Live Casino Game. With its extensive selection of games, user-friendly interface, and generous bonuses, Phwin Casino is an ideal platform for players looking to enjoy the thrill of live casino games.
At Phwin Casino, you can access Crazy Time and many other exciting live casino games from leading software providers. The platform ensures a seamless and immersive gaming experience with high-quality video streaming and professional hosts.
Phwin Casino stands out for its commitment to player satisfaction, providing a safe and secure environment for online gambling. The casino is licensed and regulated, ensuring fairness in all games and the protection of players' personal and financial information.
Signing up at Phwin Casino is quick and easy. The platform offers a user-friendly registration process, and once you become a member, you can access Crazy Time Live Casino Game and a wide range of other thrilling casino games.
Additionally, Phwin Casino offers attractive bonuses and promotions to enhance your gaming experience. From welcome bonuses to reload bonuses, players can enjoy additional funds to play their favorite games, including Crazy Time.
Crazy Time Live Casino Game offers an exhilarating and unique gaming experience, combining elements of a game show and a casino game. By understanding the gameplay, utilizing strategies, and managing your budget, you can maximize your chances of winning big. Remember to play responsibly, embrace the excitement, and enjoy the thrilling ride that Crazy Time has to offer. Best of luck in your gaming adventures!
Please follow and like us: